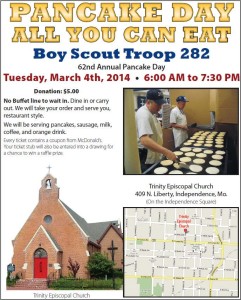 Pancake day is 6:00 AM to 7:30 PM
Tuesday, March 4th, 2014.
Please come out and help support our troop fundraiser.
There is no buffet line to wait in. Dine in or carry out. We will take your order and serve you, restaurant style.
We will be serving pancakes, sausage, milk, coffee, and orange drink.
Every ticket contains a coupon from McDonald's. Your ticket stub will also be entered into a drawing for a chance to win a raffle prize.
Tickets will be available at the door the day of the event.